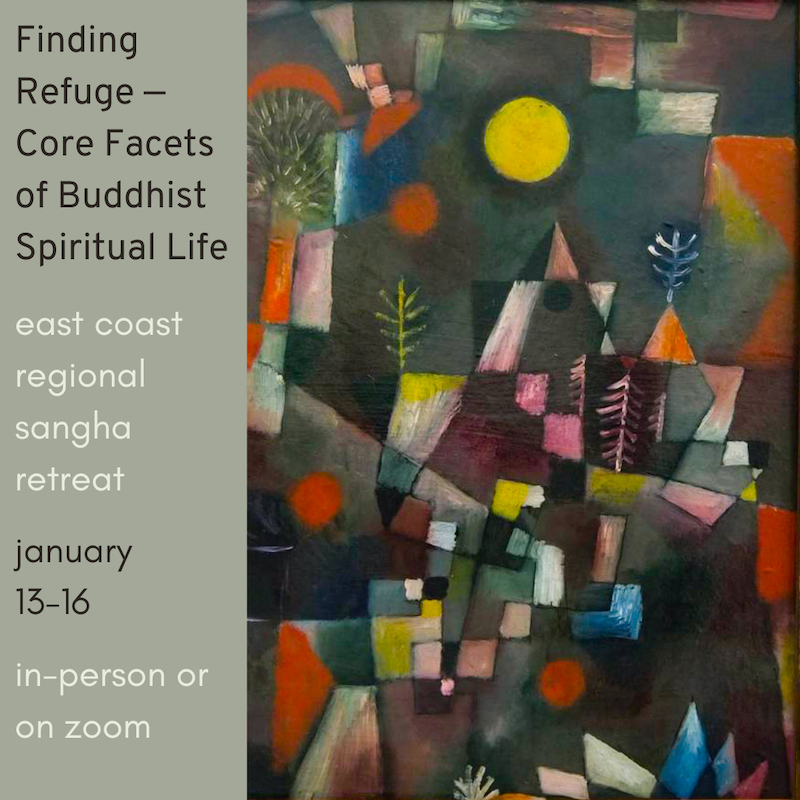 Regional Sangha Retreat | Jan 13 6pm to Jan 16 2:30pm
The image of finding refuge is a central image in the Buddhist imagination. It conjures a story of finding shelter and safety in the midst of danger. This was the Buddha's primary motivator in his own quest for liberation — the unavoidable problem of human suffering. What could be done about it?
By using the image of refuge, the Buddha was drawing attention to our enduring predicament: we are subject to the instability of Samsara — the cyclic, reactionary world of craving, hatred and delusion; and he was pointing to the freedom of Nirvana — liberation from craving, hatred and delusion.
Buddhists of all sorts share the primary act of Going for Refuge to the Three Jewels. The Three Jewels are the Buddha, the ideal of Enlightenment; the Dharma, the teaching of the Buddha and the freedom that the teaching points to; and the Sangha, the spiritual community. The Three Jewels represent our path from suffering to liberation, and sit in the middle of our mandala of practice.
What does Going for Refuge entail and how does it impact our lives? Whether you've been practicing Buddhism for some time, or are relatively new to it, this is a question worth unpacking! We'll do so with meditation, Dharma talks, discussion, friendship and ritual.
Each day of this retreat will be dedicated to one of the Three Jewels —
The Buddha: We'll explore the life of the Buddha, the ideal of Enlightenment, and explore the 'Nirvanic trend' in our own lives.
The Dharma: We'll work with some core Buddhist teachings to reveal their profundity, as well as their practicality. 
The Sangha: Spiritual community is a place to find connection, support, inspiration and trust; we'll explore sangha as a refuge both as an Enlightened ideal, and as an imperfect collection of friends doing the work of transformation.
This retreat is open to all sangha members from Aryaloka, Boston, Lubec, Portland, Portsmouth, New York and New Jersey. There will be a Zoom option for some sessions of the retreat if you would prefer to attend from home. Email info@aryaloka.org for the Zoom link and schedule.
Image detail 'Full Moon' by Paul Klee

Led by our Regional Sangha Team: Dharmasuri, Sravaniya, Suddhayu and Sunada.
 
How are we coming together safely?
Please take a Covid-19 rapid test on the day of the event (Aryaloka does not provide this test). A negative rapid test is required for entry; please take a photo of your test results and present at the door. 

If you know you

have been exposed

to Covid-19 within a five day period of the event's start-time, we ask that you not attend in-person.*  Stay up-to-date with exposure guidelines

here

.

Masks

are optional unless otherwise stated.

Masks are required indoors for anyone testing negative of Covid-19 within days 6-10 of post-covid exposure without infection.

If you have recently recovered from Covid-19, stay up-to-date with CDC guidance

here

as to when you're clear to be back in public.*

If you have cold or flu symptoms, we ask that you do not attend in-person.*

All participants will be asked to sign a waiver of liability in relation to Covid-19.

We have installed new air purifiers with virus-destroying technology!

There are new cleaning and sanitation protocols.
*Zoom options are available for many events. Transfer of fees or refunds are also available for illness or illness-preventative related absence. 
Please email info@aryaloka.org if you have any questions about our safety protocols. Aryaloka may adjust these policies in relation to current, local infection rates, and will keep retreatants posted on such changes.
 
At Aryaloka, we strive to make our programs available to everyone regardless of their financial circumstances. Our fee structure allows you to pay according to your means. 
The Event Rate is our actual fee for the event. It is for people paying their rent or mortgage, and who can afford occasional or regular leisure expenses such as dining out. Any payment above the advertised fee is a tax-deductible donation. 
The Mid-Level Reduced Rate is for those who are paying their mortgage or rent, though experience a consistent tightness in budget that makes extras like leisure activities or unexpected expenses difficult or impossible. 
The Base-Level Reduced Rate is for those without an income or with an income low enough that making ends meet is a challenge. 
Those whose circumstances are not included above can email the office to make other arrangements. info@aryaloka.org
When
January 13th, 2023 6:00 PM to January 16th, 2023 2:30 PM
Location
Aryaloka




14 Heartwood Circle




Newmarket

,

NH

03857




United States
Event Fee(s)
| | |
| --- | --- |
| Sliding Scale 1 | $360.00 |
| Sliding Scale 2 | $290.00 |
| Sliding Scale 3 | $230.00 |