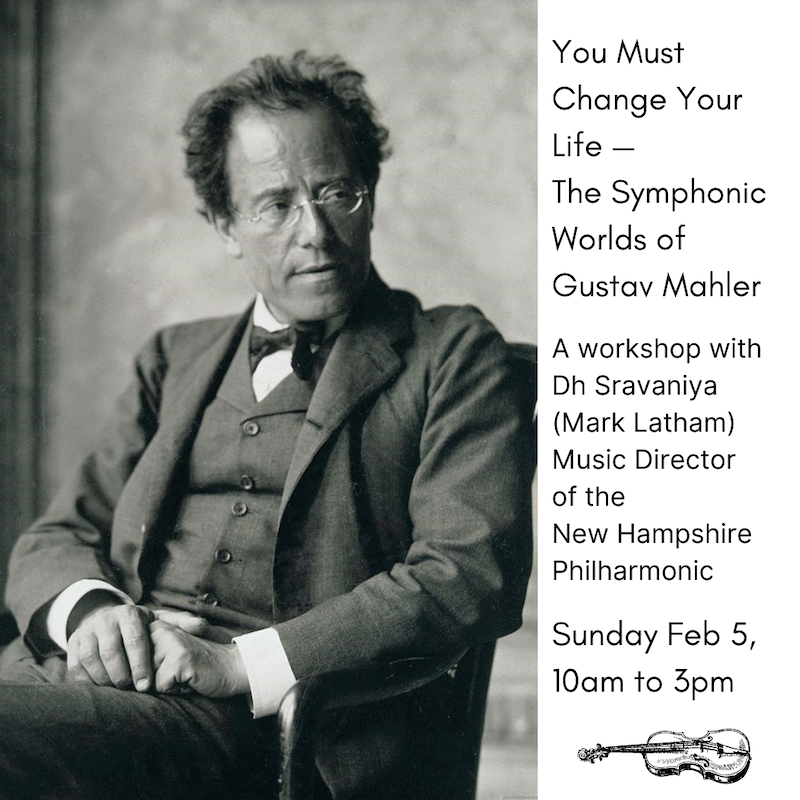 In his symphonies Gustav Mahler offered musical representation of many worlds, and, not unlike Beethoven before him, found musical means to explore and uncover philosophical questions and truths. 
What is death, and how can we relate to it? Can we overcome it somehow? What does it mean to transcend ourselves? Can beauty help us and the world? What is the nature of love? Surrounded by many, how can we escape a sense of isolation and loneliness?
In his music then we find everything: the wondrous world of nature; the world of the night; the world of the small city, and small town bands; the word of military music; the worlds of angels and darkness; the world of Jewish culture and klezmer music; the world of the heroic quest.
Mahler: 'My [first] two symphonies treat exhaustively my entire life; it is experience and suffering that I have written down with my lifeblood. Truth and poetry in music; and if someone understands how to read well, my life must in fact appear transparent to him in them. So strongly are creation and experience interwoven for me that, if henceforth my life should flow calmly like a stream through a meadow – I think I would no longer be able to create anything proper.'
In our journey we will touch on most of Mahler's 9 symphonies, but will focus on his first - "The Titan", a massive work which presents and navigates most of these themes which obsessed the composer throughout his creative life. As Mahler suggests we do, we will learn to 'read' his work better. Through direct participation (don't worry, you probably won't have to sing!) we will investigate ways we can use beauty and the creative act as means of practicing the spiritual life.
Like Rilke's poem of Apollo, Mahler's music demands of us: We must change our lives! 

The day will run from 10 AM to 3 PM and a vegetarian lunch is included.
Those who attend this workshop will receive one complimentary ticket to the NH Philharmonic's performances of Mahler's First Symphony the following weekend. (Go to: https://www.nhphil.org/ )

Dh. Śravaniya was ordained in 2003, having first encountered meditation and the FWBO (later the Triratna Buddhist Community) in the UK in 1978. His name, inspired by an episode in the biography of Milarepa, means "Delightful to listen to" or "Worthy of being heard." Sravaniya works as a professional orchestral conductor and violinist, and co-facilitates the Boston Triratna group. Read his bio as Mark Latham for the NH Philharmonic here. 
How are we coming together safely?
Please take a Covid-19 rapid test on the day of the event (Aryaloka does not provide this test). A negative rapid test is required for entry; please take a photo of your test results and present at the door. 

If you know you

have been exposed

to Covid-19 within a five day period of the event's start-time, we ask that you not attend in-person.*  Stay up-to-date with exposure guidelines

here

.

Masks

are optional unless otherwise stated.

Masks are required indoors for anyone testing negative of Covid-19 within days 6-10 of post-covid exposure without infection.

If you have recently recovered from Covid-19, stay up-to-date with CDC guidance

here

as to when you're clear to be back in public.*

If you have cold or flu symptoms, we ask that you do not attend in-person.*

All participants will be asked to sign a waiver of liability in relation to Covid-19.

We have installed new air purifiers with virus-destroying technology!

There are new cleaning and sanitation protocols.
*Zoom options are available for many events. Transfer of fees or refunds are also available for illness or illness-preventative related absence. 
Please email info@aryaloka.org if you have any questions about our safety protocols. Aryaloka may adjust these policies in relation to current, local infection rates, and will keep retreatants posted on such changes.

At Aryaloka, we strive to make our programs available to everyone regardless of their financial circumstances. Our fee structure allows you to pay according to your means. 
The Event Rate is our actual fee for the event. It is for people paying their rent or mortgage, and who can afford occasional or regular leisure expenses such as dining out. Any payment above the advertised fee is a tax-deductible donation. 
The Mid-Level Reduced Rate is for those who are paying their mortgage or rent, though experience a consistent tightness in budget that makes extras like leisure activities or unexpected expenses difficult or impossible. 
The Base-Level Reduced Rate is for those without an income or with an income low enough that making ends meet is a challenge. 
Those whose circumstances are not included above can email the office to make other arrangements. info@aryaloka.org
When
February 5th, 2023 10:00 AM through 3:00 PM
Location
Aryaloka




14 Heartwood Circle




Newmarket

,

NH

03857




United States
Event Fee(s)
| | |
| --- | --- |
| Event Fee | $95.00 |
| Mid-level Reduced | $80.00 |
| Base-level Reduced | $60.00 |