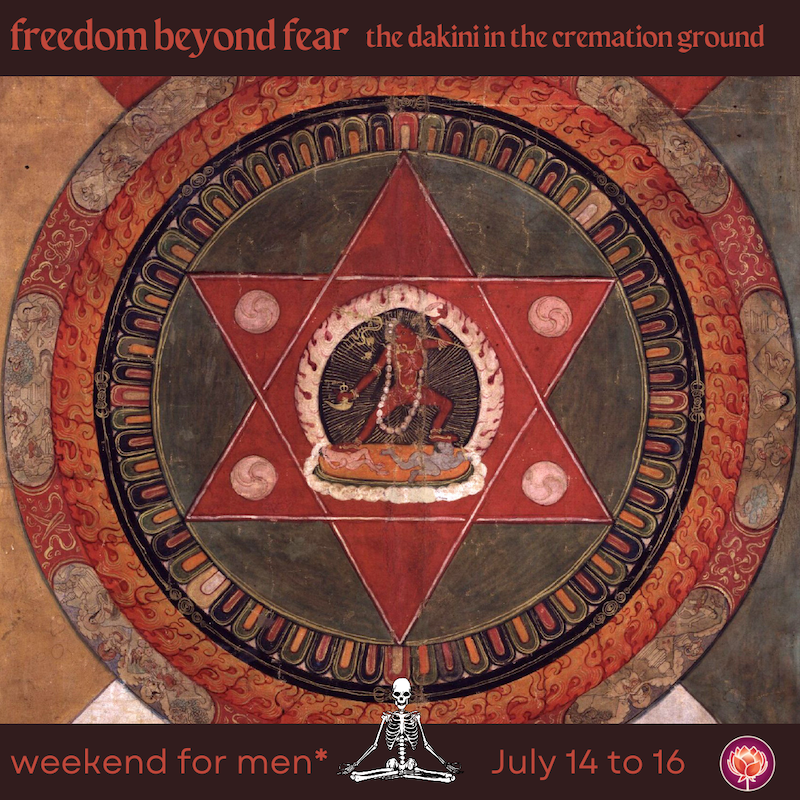 Freedom Beyond Fear — The Dakini in the Cremation Ground | a retreat for men* July 14, 6pm to July 16 2:30pm
"When you are free from the concepts of meditator and meditation object and never lose sight of your innate nature, that is the sign that you have met the mother of luminosity"**
On this retreat we'll focus on two potent symbols from the Vajrayana tradition: the Cremation Ground— a place where we face our fear, our mortality, our demons, and where courage and confidence arise; and the Dakini— the energies arisen and transformed in the cremation ground, wholly devoted and in full-blooded service to the Dharma.
As our practice becomes more embodied through living out the great Wisdom teachings of the Buddhist tradition, we inevitably change and discover new dynamics within our inner worlds. We will encounter new experiences of emotional energy, meditative consciousness, and insight. Buddhist teaching has different ways of approaching and talking about these experiences. Some of these teachings appear more psychological in nature, whereas others utilize the language of poetry, myth and symbolism. The fascinating and deep symbolism that we discover in the Cremation Ground and the Dakini is a wonderful gateway into the deeper currents in our hearts. 
We will explore these themes with a program of meditation, engaging discussion, and meaningful ritual. We will also be ritually installing the large, stone statue of the Dakini that was gifted to Aryaloka. (participants will not be expected to engage in heavy lifting: there will be many ways to contribute to the placement of the statue that will not involve lifting!). Please keep an eye out for some special work days leading up to the retreat in which we'll be preparing the shelter for the statue. Also, if you'd like to be part of the team planning the design and building of the shelter, please let us know at info@aryaloka.org.
* The Triratna Buddhist movement has a long, rich history of offering men-only practice spaces. At the same time, we welcome participation from a diversity of gender identities, including trans men and those who identify as non-binary. We ask all participants to be open to this broader definition of a men-centered space. If you have any questions or concerns, please get in touch.
**Edited excerpt from 'Dakini Teachings' – luminosity is a poetic rendering of Dharmata.
Image detail from Painted 19th century Tibetan mandala of the Naropa tradition, Vajrayogini stands in the center of two crossed red triangles, Rubin Museum of Art
Led By — Men's Team
A Culture of Generosity and Support
In the tradition of passing on the Dharma freely, our Dharma retreat and workshop facilitators offer their work without charge and are not paid. We recognize the value in what they do and want to thank them for their time, energy and wisdom. A financial gift can help support our facilitators to afford them the opportunity to lead. Please consider making a donation towards their support. 
There is often a cash collection and a thank you card that is passed on the retreat, though one can also make a donation directly to facilitators with a check, and some use money transfer services such as PayPal or Venmo.
Thank you for considering this.
How are we coming together safely?
Please take a Covid-19 rapid test on the day of the event (Aryaloka does not provide this test). A negative rapid test is required for entry; please take a photo of your test results and present at the door. 

If you know you

have been exposed

to Covid-19 within a five day period of the event's start-time, we ask that you not attend in-person.*  Stay up-to-date with exposure guidelines

here

.

Masks

are optional unless otherwise stated.

Masks are required indoors for anyone testing negative of Covid-19 within days 6-10 of post-covid exposure without infection.

If you have recently recovered from Covid-19, stay up-to-date with CDC guidance

here

as to when you're clear to be back in public.*

If you have cold or flu symptoms, we ask that you do not attend in-person.*

All participants will be asked to sign a waiver of liability in relation to Covid-19.

We have installed new air purifiers with virus-destroying technology!

There are new cleaning and sanitation protocols.
*Zoom options are available for many events. Transfer of fees or refunds are also available for illness or illness-preventative related absence. 
Please email info@aryaloka.org if you have any questions about our safety protocols. Aryaloka may adjust these policies in relation to current, local infection rates, and will keep retreatants posted on such changes.
At Aryaloka, we strive to make our programs available to everyone regardless of their financial circumstances. Our fee structure allows you to pay according to your means. 
The Event Rate is our actual fee for the event. It is for people paying their rent or mortgage, and who can afford occasional or regular leisure expenses such as dining out. Any payment above the advertised fee is a tax-deductible donation. 
The Mid-Level Reduced Rate is for those who are paying their mortgage or rent, though experience a consistent tightness in budget that makes extras like leisure activities or unexpected expenses difficult or impossible. 
The Base-Level Reduced Rate is for those without an income or with an income low enough that making ends meet is a challenge. 
Those whose circumstances are not included above can email the office to make other arrangements. info@aryaloka.org
When
July 14th, 2023 6:00 PM through July 16th, 2023 2:30 PM
Location
Aryaloka




14 Heartwood Circle




Newmarket

,

NH

03857




United States
Event Fee(s)
| | |
| --- | --- |
| Sliding Scale 1 | $320.00 |
| Sliding Scale 2 | $260.00 |
| Sliding Scale 3 | $200.00 |