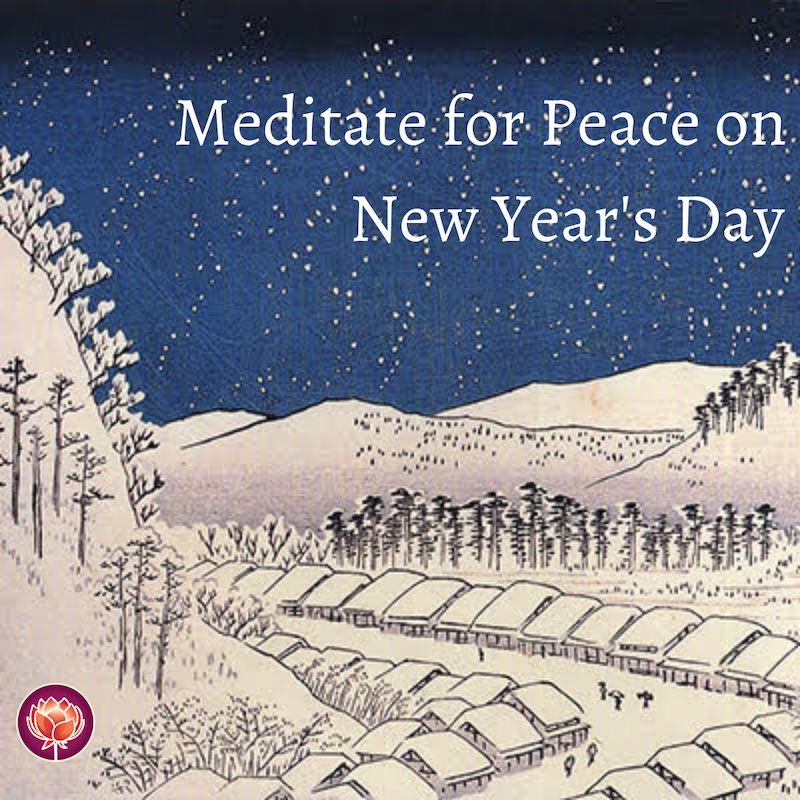 NEW YEAR'S EVE —
Please join us for our annual New Year's Eve event. Traditionally, we have met in the Aryaloka Shrine room to meditate and ring in the New Year at midnight with our large gong. Due to continuing pandemic concerns, we will be doing a virtual New Year's Eve event that is a creative alternative to our live event. Join Dharmasukta to usher in the New Year via Zoom. We will convene at 11:15 PM with a loving kindness meditation. Since ringing a gong is impractical on Zoom, at midnight, those who attend will have the opportunity to share a poem that inspires. It can be related to new beginnings, dealing with adversity, or hopes for the future. Poetry can be Buddhist-themed or not. We invite you to participate in any way you feel comfortable with. We look forward to seeing you on December 31'st.
NEW YEAR'S DAY —
Every year we gather at Aryaloka to meditate and reflect on peace, setting the tone for the year ahead. This year we will not be able to gather in-person as we usually do, though we will have the opportunity to participate from home via Zoom. You don't have to be a Buddhist to participate — all are welcome! 
Schedule:
Meditation sessions begin every hour on the hour. Please arrive a few minutes before the session. There will be a short break between every sit allowing for snacks, rehydration, stretching etc. Participants may attend all or some of the day, and may come and go as they see fit. Please plan on scheduling your own lunch break at home if attending the whole day. All sessions are 40 minutes. Guided meditations are perfect for newcomers, and silent meditations are for those who can meditate without instruction. 
Please arrive online shortly before 9am if you plan on attending the first sit of the day.
9am Dedication and Guided Meditation
10am Silent Meditation
11am Guided Meditation
12pm Silent Meditation
1pm Silent Meditation
2pm Guided Meditation
3pm Silent Meditation
4pm Silent Meditation and Transference of Merits
There is no need to register. If you'd like to make a donation to Aryaloka you may do so here, or send a check to 14 Heartwood Circle, Newmarket NH 03857. Thank you! Your donations are tax deductible and so helpful at this time of operating at a limited capacity.
illustration detail from Utagawa Hiroshige, "Reisho Tokaido"
When
January 1st, 2022 9:00 AM through 5:00 PM