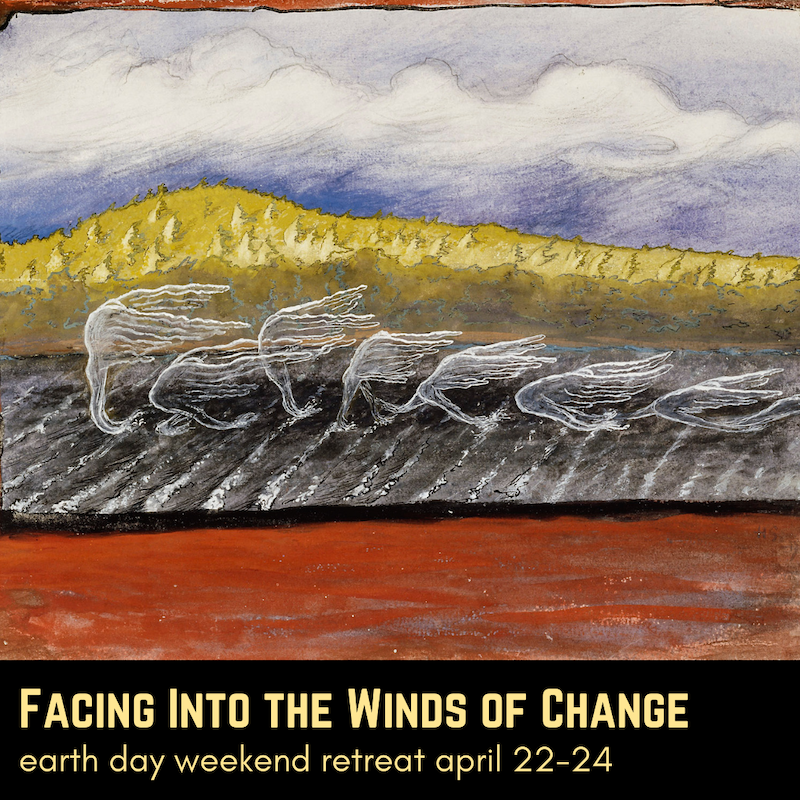 Facing Into the Winds of Change
an earth day weekend retreat | friday april 22, 6pm to sunday april 24, 2pm
With politics, the pandemic, and – most threateningly – climate change, the stressors in our world are great. Many are pulled towards despair. Others do not yet directly feel the effects of environmental change and continue with life as usual. The changes in northern New England are subtle, yet it is one planet. All beings are affected, and areas already in great distress are close to us. A major driver of climate catastrophe is our North American lifestyle.
We must confront not only the reality of change but issues of climate justice as well. How then do we want to live?
We don't want to carry on as though nothing is happening. Despair isn't the answer either. We want a creative response aligned with our ethical values. We want to develop resilience and discover what will help us to adapt. 
We may recognize a need to inform ourselves more fully and consider changes in our lifestyle. We may be motivated to notice and engage in the positive movements and projects going on around us. We may be inspired to act as stewards of the land and defenders of wildlife for future generations who cannot speak for themselves. We may be called to protest and resist; to take political action, or to focus on harmony, love, and compassion — or all of these.
In facing these challenges and opportunities, we can draw strength and inspiration from our spiritual friends. Together we can cultivate kindness and equanimity while facing difficult realities. What we create within the Sangha can contribute to the other communities we engage with. The gift of the Dharma is something we can give each other and share broadly in the world.
On this weekend retreat we will come together to create an environment that supports us in turning toward these challenging winds of change, individually and collectively. 
We will use the

Brahma Viharas

as a framework for exploring in meditation our responses to the natural world and the changes it is undergoing as the result of climate change 

We will hear voices and stories from around the worldwide Triratna community, to learn what others are thinking, feeling and doing about the climate crisis
We will share our own stories, questions, reflections and intentions

We will offer a range of suggestions and resources for ways that participants can respond positively and creatively to the crises facing us and engage with others who are already doing so
Led by: The Eco-Dharma Team: Amala, Gunopeta, Shraddhavani, Sravaniya and Viriyalila. Read their bios here.
*This retreat will be hybrid (in-person and on Zoom) — please email info@aryaloka.org if you'd like to attend on Zoom. 
Safety: (*Please note that our covid related safety policies change with the times. This retreat was listed in January 2022 and we may amend these policies if the covid situation improves)
How are we coming together safely?
We are requiring that all in-person participants be fully vaccinated vs Covid-19, including a booster, and will ask for a photo or scan of vaccination cards.

We are currently wearing masks indoors in all common areas. KN95 or N95 required.

Please plan on taking a covid-19 rapid test when you arrive in your vehicle. A negative rapid test is required for entry.

Please schedule a covid-19 PCR test 3-4 days ahead of the event, and bring your negative results with you (digital is fine).  *Please check with the test provider that you'll be able to receive the results before the event starts. We understand that receiving a PCR in a timely manner may be problematic, so this is optional although strongly encouraged.

If you have cold or flu symptoms, we ask that you do not attend, but please attend on Zoom instead.

We have installed new air purifiers with virus-destroying technology!

We will have the same few people working in the kitchen.

We will practice social distancing in the shrine room.

There will be some new cleaning and sanitation protocols.

There will be one-person per bedroom unless already sharing a household.

The retreat population will be limited.




*Please let us know if you have questions or concerns about how we're coming together.
A Culture of Generosity and Support —
In the tradition of passing on the Dharma freely, our Dharma retreat and workshop facilitators offer their work without charge and are not paid. We recognize the value in what they do and want to thank them for their time, energy and wisdom. A financial gift can help support our facilitators to afford them the opportunity to lead. Please consider making a donation towards their support. 
There is often a cash collection and a thank you card that is passed on the retreat, though one can also make a donation directly to facilitators with a check, and some use money transfer services such as PayPal or Venmo.
Thank you for considering this.
Image detail: The Wind Blows by Hugo Simberg 
At Aryaloka, we strive to make our programs available to everyone regardless of their financial circumstances. Our fee structure allows you to pay according to your means. 
The Event Rate is our actual fee for the event. It is for people paying their rent or mortgage, and who can afford occasional or regular leisure expenses such as dining out. Any payment above the advertised fee is a tax-deductible donation. 
The Mid-Level Reduced Rate is for those who are paying their mortgage or rent, though experience a consistent tightness in budget that makes extras like leisure activities or unexpected expenses difficult or impossible. 
The Base-Level Reduced Rate is for those without an income or with an income low enough that making ends meet is a challenge. 
Those whose circumstances are not included above can email the office to make other arrangements. info@aryaloka.org
When
April 22nd, 2022 6:00 PM through April 24th, 2022 2:00 PM
Location
Aryaloka




14 Heartwood Circle




Newmarket

,

NH

03857




United States
Event Fee(s)
| | |
| --- | --- |
| Sliding Scale 1 | $ 320.00 |
| Sliding Scale 2 | $ 260.00 |
| Sliding Scale 3 | $ 200.00 |