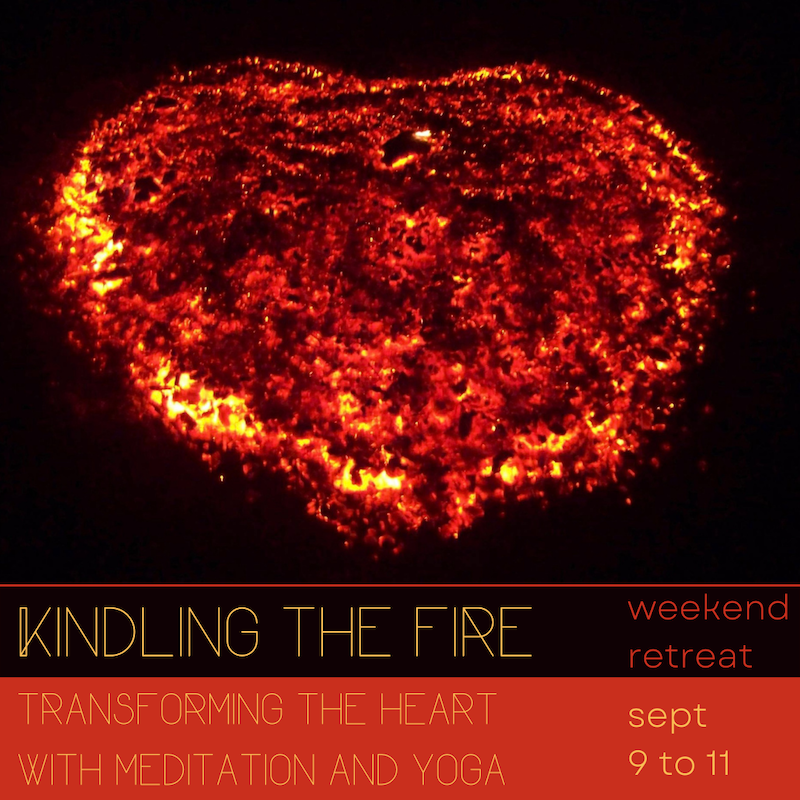 Much of what we work with in spiritual life is the varied and sometimes unpredictable weather of our inner world. Finding consistent energy for yoga and meditation, as well as dealing with what comes up in practice, are challenges we all face. Sometimes we may feel blocked, scattered, or too rough around the edges to effectively integrate our practice into our lives.
With yoga and meditation we can cultivate a beautiful tranquility in the body and heart. We will explore how each practice enriches the other, contributing to a sustained calm that can change the way we live and our perception of the world around us.
The Brahma-Viharas (sublime abodes) are a series of meditation practices, common to Buddhism and the yogic tradition, that work directly with the energy of the heart. Through the cultivation of unconditional love, compassion, sympathetic joy, and equanimity, we give ourselves the space to be with how we actually feel, to meet that with a kind awareness, and to find a greater capacity for positive emotion.
We will explore restorative yoga, yoga nidra, and the mindful movement of slow vinyasa. Vinyasa emphasizes the importance of breath with movement, and develops a strong foundation for any yoga practice. 
This retreat is perfect for yogis who would like to explore meditation more deeply, and for meditators who would like to bring yoga into their practice of integrative awareness. No prior experience is necessary. Suitable for complete beginners, or those looking to take their practice deeper.
*Please bring a yoga mat. We have plenty of props, but If you prefer your own props like bolsters, straps, or cork or foam bricks, please feel free to bring. Meditation cushions and chairs provided.
Led by —
Dh. Singhaśūrī (FKA Lona Kovacs), certified yoga instructor, has been a yoga and meditation practitioner and teacher for over 30 years. Still in her forties, Singhasuri has recovered from a total hip replacement. She is passionate about teaching restorative yoga, therapeutic yoga, yoga for meditation, and the breath and movement practice that has guided her recovery.
Dh. Śuddhāyu has been teaching meditation and Buddhism and leading retreats since 1998. He has a deep love of the processes of meditation practice, as well as poetry, myth and creative ritual. He currently works full-time for Dharma initiatives as Chair at the Portsmouth Buddhist Center and Manager of Aryaloka. 
Safety:
How are we coming together safely?
We are requiring that all in-person participants be fully vaccinated vs Covid-19, including a booster, and will ask for a photo or scan of vaccination cards before the event.

Please take a covid-19 rapid test on the day of the event (Aryaloka does not provide this test). A negative rapid test is required for entry; please take a photo of your test results and present at the door.

Masks are optional unless otherwise stated.

If you have cold or flu symptoms, we ask that you do not attend.

We have installed new air purifiers with virus-destroying technology!

We will have the same few people working in the kitchen.

We will practice social distancing in the shrine room.

There will be some new cleaning and sanitation protocols.

There will be one-person per bedroom unless already sharing a household.

The retreat population will be limited.
*Please let us know if you have questions or concerns about how we're coming together.


A Culture of Generosity and Support
In the tradition of passing on the Dharma freely, our Dharma retreat and workshop facilitators offer their work without charge and are not paid. We recognize the value in what they do and want to thank them for their time, energy and wisdom. A financial gift can help support our facilitators to afford them the opportunity to lead. Please consider making a donation towards their support. 
There is often a cash collection and a thank you card that is passed on the retreat, though one can also make a donation directly to facilitators with a check, and some use money transfer services such as PayPal or Venmo.
Thank you for considering this.
At Aryaloka, we strive to make our programs available to everyone regardless of their financial circumstances. Our fee structure allows you to pay according to your means. 
The Event Rate is our actual fee for the event. It is for people paying their rent or mortgage, and who can afford occasional or regular leisure expenses such as dining out. Any payment above the advertised fee is a tax-deductible donation. 
The Mid-Level Reduced Rate is for those who are paying their mortgage or rent, though experience a consistent tightness in budget that makes extras like leisure activities or unexpected expenses difficult or impossible. 
The Base-Level Reduced Rate is for those without an income or with an income low enough that making ends meet is a challenge. 
Those whose circumstances are not included above can email the office to make other arrangements. info@aryaloka.org
When
September 9th, 2022 6:00 PM through September 11th, 2022 2:30 PM
Location
Aryaloka




14 Heartwood Circle




Newmarket

,

NH

03857




United States
Event Fee(s)
| | |
| --- | --- |
| Sliding Scale 1 | $320.00 |
| Sliding Scale 2 | $260.00 |
| Sliding Scale 3 | $200.00 |