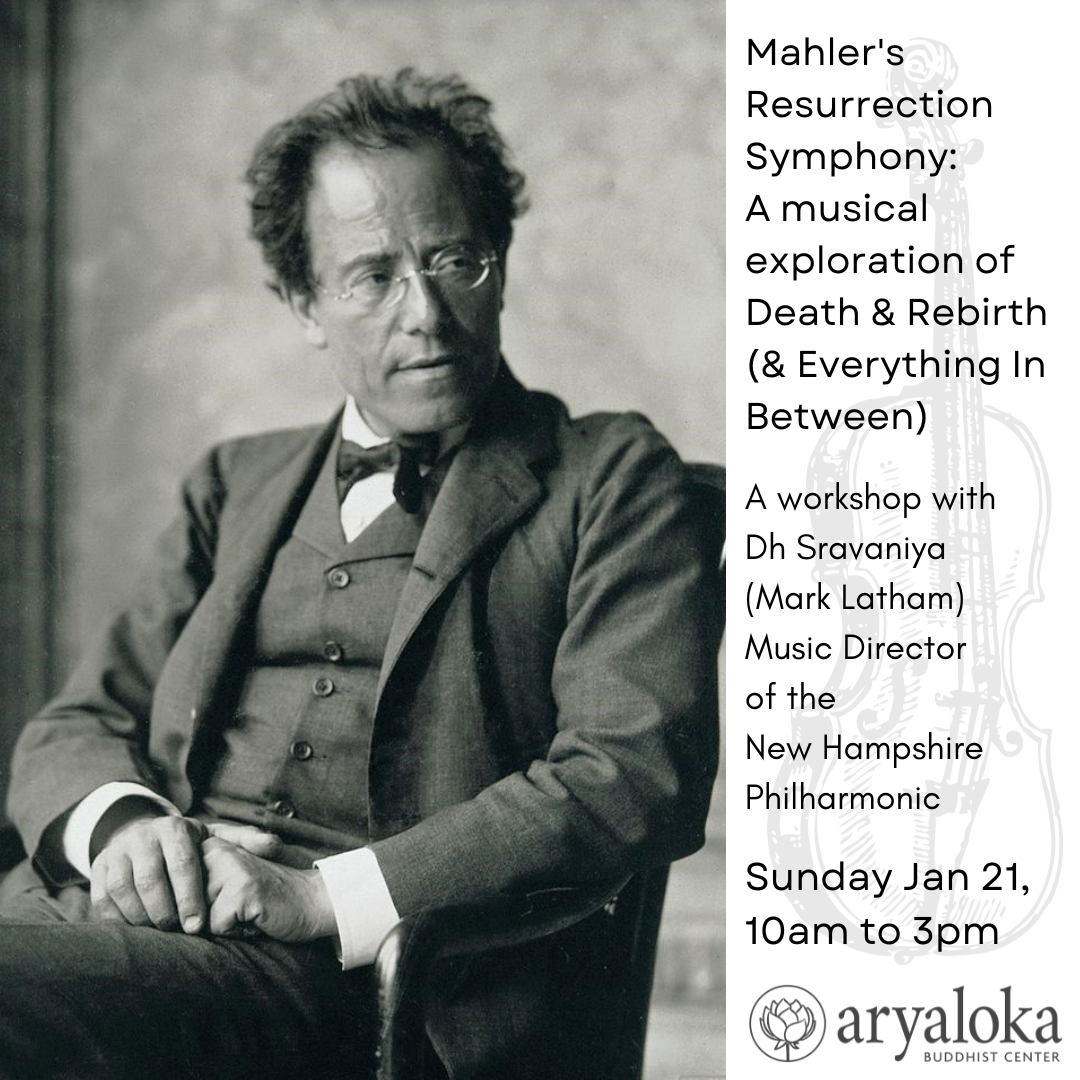 Mahler's Resurrection Symphony: A musical exploration of Death and Rebirth (and Everything In Between) | Jan. 21, 10-3
In this workshop we will explore in depth one of the great masterpieces of the whole symphonic literature. Very aware of the precedent of Beethoven's Ninth 'choral' Symphony, Gustav Mahler decided that his philosophical and spiritual musings into the meaning of life and death and the hereafter also needed the aid of text and a choir and soloists. Using enormous symphonic forces, including 10 horns, 10 trumpets, an off stage band, a gigantic percussion section, a choir of a hundred or so, and two vocal soloists, Mahler weaves together a narrative of wandering and discovery both terrifying and beautiful, and, in the end, optimistic… How does he - or any of us - do it?
Such a work can inspire reflections on our own mortality…On the purposeful course of our lives. Perhaps it should do so! Perhaps Mahler can inspire in us an optimistic outlook on the reality of our own impermanence? 
And how might the 'organizational principles' that keep a work of this magnitude coherent inform our own quests, and helpfully shape the complex navigations of our own lives? I hope - and believe - that a close investigation of such a work of art can help us to rise to a place of optimism and confidence in a world that seems to be very difficult and dark.
The day will run from 10 - 3, and includes a vegetarian lunch. It will be fun and interactive, as well as full of exquisite music. Simply bring an open, receptive and investigative spirit!
The New Hampshire Philharmonic Orchestra, with choirs from Keene State and Plymouth State Universities, will be giving 3 performances of the 'Resurrection Symphony': Sunday, February 18 (at Plymouth State University), Saturday, February 24, and Sunday, February 25 (at the Seifert Auditorium, in Salem, NH). All concerts begin at 2 PM.
Anyone who attends the event (live or online) will receive 2 free tickets of your choice for one of the performances.
Dh. Śravaniya was ordained in 2003, having first encountered meditation and the FWBO (later the Triratna Buddhist Community) in the UK in 1978. His name, inspired by an episode in the biography of Milarepa, means "Delightful to listen to" or "Worthy of being heard." Sravaniya works as a professional orchestral conductor and violinist, and co-facilitates the Boston Triratna group. Read his bio as Mark Latham for the NH Philharmonic here. 

A Culture of Generosity and Support
In the tradition of passing on the Dharma freely, our Dharma retreat and workshop facilitators offer their work without charge and are not paid. We recognize the value in what they do and want to thank them for their time, energy and wisdom. A financial gift can help support our facilitators to afford them the opportunity to lead. Please consider making a donation towards their support. There is often a cash collection and a thank you card that is passed on the retreat, though one can also make a donation directly to facilitators with a check, and some use money transfer services such as PayPal or Venmo. Thank you for your generosity.
 
How are we coming together safely?
Please take a Covid-19 rapid test on the day of the event (Aryaloka does not provide this test). A negative rapid test is required for entry; please take a photo of your test results and present at the door. 

If you know you

have been exposed

to Covid-19 within a five day period of the event's start-time, we ask that you not attend in-person.*  Stay up-to-date with exposure guidelines

here

.

Masks

are optional unless otherwise stated.

Masks are required indoors for anyone testing negative of Covid-19 within days 6-10 of post-covid exposure without infection.

If you have recently recovered from Covid-19, stay up-to-date with CDC guidance

here

as to when you're clear to be back in public.*

If you have cold or flu symptoms, we ask that you do not attend in-person.*

We have installed new air purifiers with virus-destroying technology!

There are new cleaning and sanitation protocols.
*Zoom options are available for many events. Transfer of fees or refunds are also available for illness or illness-preventative related absence. Please email info@aryaloka.org if you have any questions about our safety protocols. Aryaloka may adjust these policies in relation to current, local infection rates, and will keep retreatants posted on such changes.
At Aryaloka, we strive to make our programs available to everyone regardless of their financial circumstances. Our fee structure allows you to pay according to your means. 
The Event Rate is our actual fee for the event. It is for people paying their rent or mortgage, and who can afford occasional or regular leisure expenses such as dining out. Any payment above the advertised fee is a tax-deductible donation. 
The Mid-Level Reduced Rate is for those who are paying their mortgage or rent, though experience a consistent tightness in budget that makes extras like leisure activities or unexpected expenses difficult or impossible. 
The Base-Level Reduced Rate is for those without an income or with an income low enough that making ends meet is a challenge. 
Those whose circumstances are not included above can email the office to make other arrangements. info@aryaloka.org
When
January 21st, 2024 from 10:00 AM to 3:00 PM
Location
Aryaloka




14 Heartwood Circle




Newmarket

,

NH

03857




United States
Event Fee(s)
| | |
| --- | --- |
| Event Fee | $95.00 |
| Mid-level Reduced | $80.00 |
| Base-level Reduced | $60.00 |