Buddhaworks
Buddhaworks is Aryaloka's book, meditation supply and gift shop. We keep many classics of Buddhist literature in stock, from the Pali Canon to contemporary authors. Whether you're new to meditation and Buddhism, or a seasoned practitioner, we've got the books you need!
We carry incense, rupas (statues), malas, meditation benches and cushions, singing bowls, artwork, prayer flags, cards, scarves and more. The self-service bookstore is open Tuesday evenings and by appointment.
Library
Aryaloka maintains a large lending library of Buddhist and Buddhist-related books, pamphlets and magazines.
The library includes a large collection of Sangharakshita's works as well as those of other Triratna authors. The library has many translations from the Pali Canon, the Mahayana, and Vajrayana traditions. There are many books from Theravadin, Tibetan and Zen schools, along with contemporary authors on topics such as women in Buddhism, death and dying and meditation.
Located in the loft above the kitchen, the library is open on Tuesday evenings and by appointment. Come to browse or read in the lovely loft space, or sign out a book to read at home.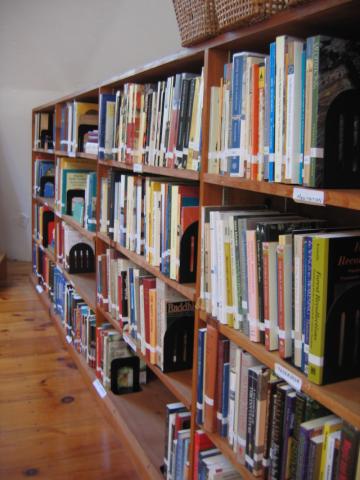 Vajra Bell
The Vajra Bell is an online publication featuring articles on the teachings and practices of the Triratna Buddhist Order and Community in the US and Canada. In each issue you will find insightful articles on Buddhist topics, updates from Triratna Buddhist Centers in North America, reviews of Buddhist books along with poetry and artwork created by Sangha members.
So, what does Vajra Bell mean? Vajra means thunderbolt or diamond, that which cuts through all obstacles to Enlightenment. The vajra is the symbol of a union of opposites, the ultimate expression of wisdom and compassion. A vajra bell rings out far and wide the melody of transcendental reality. As a magazine, the Vajra Bell is a rich and rewarding read that brings our Sangha together in common spiritual practice.
Each issue is available for download in Adobe Acrobat (PDF) format or can be viewed online at  The Buddhist Centre Online
Would you like to receive future issues in your inbox? Sign up here to receive the online version of the Vajra Bell.
If you are a member of the Triratna Buddhist Community who would like to create print copies for your local Sangha, or if you would like to contribute to or comment on the Vajra Bell, please contact a member of the Vajra Bell kula at VajraBellTriratna@gmail.com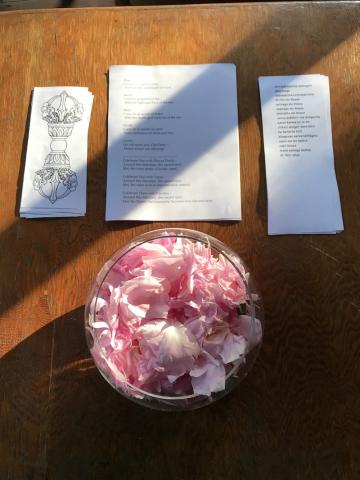 Online Resources
Socially Engaged Buddhist Organizations
Online Journals