Overview
Aryaloka's spacious facilities are available for use by businesses, organizations, schools, or other groups in need of a quiet and beautiful meeting space. Whether you would like to schedule a yoga workshop, a day or half-day meeting, a weekend retreat, solitary retreat or a week-long residential seminar, we can accommodate you.
Our main building comfortably holds up to 30 people for daylong events and 16 for overnight events. Our annex holds up to 12 people for day or overnight events. We can accommodate up to 28 guests overnight between the two buildings.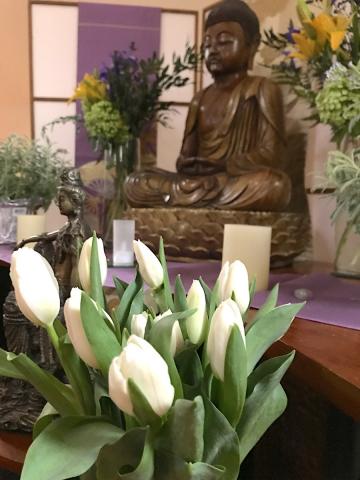 The facilities include:
Large, multi-purpose room ideal for yoga, T'ai Chi, meetings, lectures, or performances. We have a projector and screen for presentations. (main)
Large meditation hall (main)
Small meditation hall (annex)
Large selection of meditation gear – mats, cushions, benches, chairs and blankets.
Two porches (one screened, one open) for casual meetings (main)
Large lounge/dining area (main)
Small lounge/dining area (annex)
Fully-equipped kitchen (both buildings)
Furnished, dormitory-style bedrooms that sleep two to four people. Includes two bunk beds in the main building.
Two full, shared bathrooms per building
Library (main)
Well-stocked book and gift shop (main)
Fourteen acres of woodland with walking trails along the Piscassic River.
If you'd like to get a better look at our center, check out the Aryaloka virtual tour.
Optional Catering and Instruction
We offer catering for groups renting our facility. We can provide full catering (three meals a day) or partial catering (one or two meals a day). The meals we provide are vegan and gluten free with dairy and gluten options. All self-catered meals must be vegetarian.
Our teachers may be available to offer instruction in meditation, yoga and mindfulness practice upon request. Please enquire to make arrangements.
Rental Terms and Conditions
Self-catered Group Rates per Day (5-8 hours) –
10-30 people – $65 per person; $650 minimum
Self-catered Group Overnight Retreat –
$85 per person per night (Note: minimum of $2550 and two nights)
Catered Group Overnight Retreat –
$110 per person per night (Note: minimum of $3300 and two nights)
If staying overnight before or after an Aryaloka event –
$25 per person, non-catered 
Solitary Retreat Rates – 
Six nights or less – $45 per night, non-catered
Seven nights or more – $40 per night, non-catered *first six nights are $45 per night*
Ask about our solitary retreat facility options!
Cancellation Policy
If the renter cancels the event more than 30 days in advance, the deposit will be refunded minus an administrative fee of $100. If the cancellation is made within 30 days or less of the event, the renter will forfeit the deposit. Exceptions to this policy may be made at the discretion of the Center Director.
Cleaning Fee
An additional $150 cleaning fee will be applied to overnight rentals. This fee will be refunded if the renter agrees to clean at the end of their stay. Please contact the office for details.
Additional Information:
We require a 50% deposit to reserve your dates. Please book as far in advance as possible, as we generally plan our programs a year in advance. You will be asked to sign a rental contract, provide a security deposit and proof of insurance coverage.
Alcohol, tobacco, and other intoxicating substances (legal or illegal), firearms and other weapons are not allowed anywhere on the premises.
We ask that no meat/fish products be cooked or served at Aryaloka. If someone needs to eat meat/fish for medical reasons (only), we ask that it be prepared elsewhere and brought ready-to-eat.
To contact us regarding rental reservations:
E-mail: info@aryaloka.org