Aryaloka Buddhist Center is part of the Triratna Buddhist Community (TBC), an international Buddhist movement of centers, communities, ethical businesses and social projects. The TBC was founded in London in 1967 by the Venerable Urgyen Sangharakshita (1925-2018) as The Friends of the Western Buddhist Order.
Sangharakshita lived a monastic life in India for twenty years, where he studied and practiced with Buddhist teachers of different traditions. Upon returning to the West he founded a movement dedicated to communicating the vitality of the Buddhist tradition in a context that was approachable, inspiring and engaging for practitioners in the modern world. The Triratna Buddhist Community's approach to Buddhist spiritual life emphasizes the transformative process of Going for Refuge as expressed through ethics, meditation, friendship, community, right livelihood, the arts, study and ritual.
You can find out more about the Triratna Buddhist Community and Sangharakshita by clicking the links below:
Explore Triratna at The Buddhist Center Online
Learn about Sangharakshita at Sangharakshita.org
Read about our history in The Triratna Story
Explore talks and led meditations at Free Buddhist Audio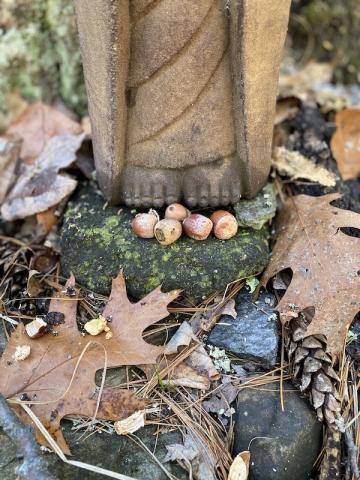 What is a Mitra?
When coming along to Aryaloka you may hear someone refer to themselves as a mitra. Mitra is the Sanskrit word for friend. Spiritual friendship is the lifeblood of the Triratna Buddhist Community and a vital part of how we build community at Aryaloka. The Buddha emphasized that spiritual friendship was not just part of the spiritual life, but the whole of it. From its origins, Buddhist community has been intentionally cultivated as a spiritual practice. In our friendships with one another we find love, support and wisdom.
Becoming a mitra is an expression of connectedness to the ideal of spiritual community. It represents an individual's commitment to going deeper with their practice.
When a person decides to become a mitra, they feel ready to make the following declarations:
I feel that I am a Buddhist.
I am trying to practice the Five Precepts.
I feel that the Triratna Buddhist Community is the main context in which I want to deepen my practice.
Becoming a mitra is celebrated with a simple yet significant and joyful ceremony. Once a person makes this commitment, they have the opportunity to study the Dharma Training Course for Mitras and take part in workshops/retreats with other mitras. The course gives an inspiring and thorough introduction to Buddhist teaching and the Triratna approach to Buddhist spiritual life.
Read more about becoming a mitra here.
What is an Order Member?
You will likely meet people at Aryaloka that have sanskrit or pali names. Some of the names are only two or three syllables, but some have four or five – this can take some getting used to! Receiving a new Buddhist name, also known as a Dharma name, is a traditional component of ordination in the Buddhist world generally. However, you will not find monastics at Aryaloka. Members of our order are not ordained into a particular expression of Buddhist lifestyle. We are people dedicated to the full embodiment of the Buddha's teaching, and although we share a common vision, our lifestyles differ. Some of us have families and careers, some of us live and work together, some of us are living in situations that are more retreat-like or even solitary. We are not ordained as ministers or counselors, and are not expected to be teachers. We are Dharmacharis and Dharmacharinis, or 'Dharms-farers' –  those who 'course in the Dharma.'
Our Order is open to anyone – regardless of race, sexual orientation, or gender identification – who is sincerely and effectively committed to the Buddhist path.
You can learn more about ordination in Triratna here, or by reading this book.