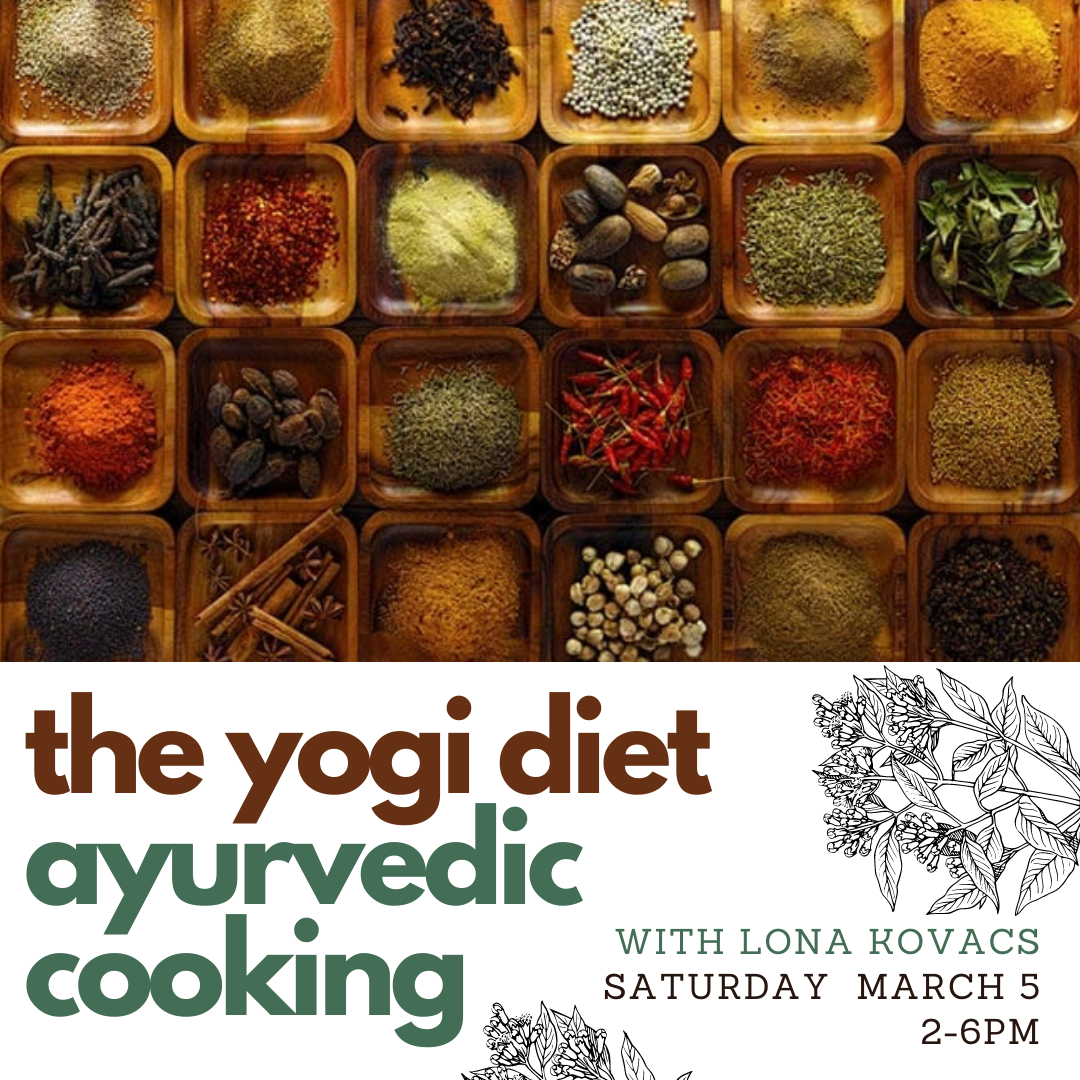 In this class we will explore traditional Ayurveda as a foundation for vegetarian cooking, and recommendations for yoga practitioners for optimum health and digestion. This class will also serve as an Introduction to Ayurveda. This is a hands-on cooking class — participation encouraged! A well-balanced, simple yogi-style meal will be created and shared together.
Safety:
How are we coming together safely?
We are requiring that all in-person participants be fully vaccinated vs Covid-19, including a booster, and will ask for a photo or scan of vaccination cards.

Please plan on taking a covid-19 rapid test when you arrive in your vehicle. A negative rapid test is required for entry.

Masks are optional unless otherwise stated.

If you have cold or flu symptoms, we ask that you do not attend.

We have installed new air purifiers with virus-destroying technology!

We will have the same few people working in the kitchen.

We will practice social distancing in the shrine room.

There will be some new cleaning and sanitation protocols.

There will be one-person per bedroom unless already sharing a household.

The retreat population will be limited.
*Please let us know if you have questions or concerns about how we're coming together.
Led by — Lona Kovacs began her studies in nutrition with a ten-year apprenticeship with a Kushi Institute Macrobiotic Teacher and graduated as a Macrobiotic Counselor. During this time  she explored growing food in the mountains of New Hampshire, foraging in the wild, and cooking for hundreds of people seeking healing. Lona studied Ayurveda while attending her first of many residencies at the Kripalu Institute in the Berkshires. She continued her academic and lifestyle interest in Ayurveda and Indian cooking while studying yoga asana and philosophy in India. As a yoga practitioner and a yoga teacher, maintaining an understanding of this science has been paramount to sustaining her yoga, meditation and pranayama practices with steadiness and ease for over 30 years.
Lona's love of the natural world sparked interest in Environmental Science while attending Naropa University for her undergraduate studies. This time learning about deep ecology, eco-psychology, sustainable living, organic gardening and wildcrafting led her to apprentice as an herbalist with Rosemary Gladstar in the mountains of Vermont. Lona's approach to health and healing, plant-based medicine and vegetarian/whole food cooking is an expression of living in harmony on this incredible planet. She strives to maintain equanimity and to stay open to the wisdom of ancient traditions and all growing things.
When
March 5th, 2022 2:00 PM through 6:00 PM
Location
Aryaloka




14 Heartwood Circle




Newmarket

,

NH

03857




United States