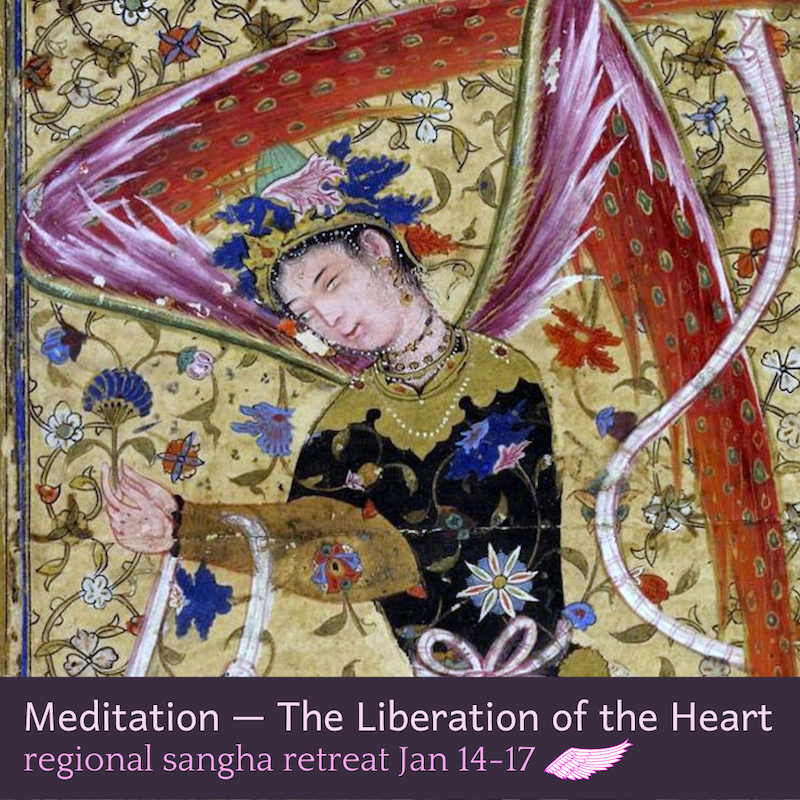 Note: This retreat is now online only.
In the quest for happiness, we can be undermined by our own actions and habits as well as the demands of the world in which we live. Our idea of what happiness is may be manipulated by consumer culture and conditioned by the myth of the American dream. These forces tell us that happiness comes from things and achievements, and that everyone has access to these things and achievements if only they work hard enough. Though, in the struggle for success and even in the fruition of it, one realizes that happiness or fulfillment in this limited sense is fleeting; it is not long before dissatisfaction arises and happiness is again at some distant destination and enshrined in a new myth of fulfillment. The cycle continues.
The Buddha taught that true happiness did not come from things or achievements. Rather, true happiness is a liberation of the heart from the poisons of greed, hatred and delusion, and the way to true happiness is based in our inner world. This liberation begins with looking at how we are living our lives and perhaps making adjustments to live more skilfully and simply, and to let go of deceptive myths. We are then shown the way to go deeper with meditation — to sit until the mind stills and quiets, and the extraordinarily pleasing momentums of integration and transformative emotion arise. 
Yet this stillness of the mind and clarity of the heart can at times seem hard to come by. What can be done? On this retreat we'll explore practical methods of working with our mind and heart to find a way to a more embodied and fulfilling meditation practice. Participants can expect an engaging yet relaxed schedule of meditation, meditation teaching and mentoring, peer support and lively discussion. We will also be introducing the practice of silence for periods of time during the retreat. On the final day of the retreat , we will explore the intersection of meditation practice and the complexities of daily life and social change. How is meditation a radical act that transforms our world? What effect does our practice of meditation have on those we share our lives with?
Now in its 13th year, this retreat was previously known as the Outlying Sanghas Retreat for the Portland, Boston, and New York sanghas exclusively. We now welcome all sangha members in the Northeast Region, including Aryaloka, Portsmouth, and Lubec, ME. Please join us in this annual celebration of Dharma-practice and sangha!

*Participants should be attendees of one of the Northeast region Triratna centers or groups, and have a basic familiarity with our practices.
Led By: Dh Dharmasuri, Dh Sunada, Dh Sravaniya and Dh Suddhayu — read their bios here.
FRIDAY
| | |
| --- | --- |
| ACTIVITY | TIME |
| Welcome,  brief intros and overview of the retreat | 7pm |
| Participant's intros in small groups with prompt: How's your meditation; what's your intention for the weekend? | 7:30 |
| Meditation and Dedication | 8:00-8:30 |
SATURDAY
| ACTIVITY | TIME |
| --- | --- |
| Double Meditation (optional) | 7:00-8:30 |
| Meditation Workshop: Working with the Hindrances | 10:30-12:30 |
| Meditation Reviews (optional) | 2-3 |
| Meditation Workshop: Working with the Dhyana Factors and Access Concentration  | 3:30-5:30 |
| Evening Activity: Meditation and Puja (optional) | 7:00-8:00 |
SUNDAY
| | |
| --- | --- |
| ACTIVITY | TIME |
| Double Meditation (optional) | 7:00-8:30 |
| Meditation Workshop: Ethics, Lifestyle and Meditation | 10:30-12:30 |
| Meditation Reviews (optional) | 2-3 |
| Meditation Workshop: The Altruistic Dimension of Meditation and the Brahma Viharas | 3:30-5:30 |
| Evening Activity: Meditation and Puja (optional) | 7:00-8:00 |
MONDAY
| | |
| --- | --- |
| ACTIVITY | TIME |
| Meditation (optional) | 7:00-8:30 |
| Special Guest Speaker and discussion | 10:00-12:00 |
| Closing Circle: What are we taking with us? | 12:15 |
| Finish: Transference of Merit | 12:45 |
Image detail — Kneeling Angel from Bukhara School c. 1555-1560
When
January 14th, 2022 7:00 PM through January 17th, 2022 12:45 PM
Location
14 Heartwood Circle




Newmarket

,

NH

03857




United States
Event Fee(s)
| | |
| --- | --- |
| Suggested Donation $200 | $200.00 |
| Suggested Donation $150 | $150.00 |
| Suggested Donation $100 | $100.00 |
| Suggested Donation $50 | $50.00 |
| Suggested Donation $25 | $25.00 |