A weekly gathering to meditate, learn, share and befriend!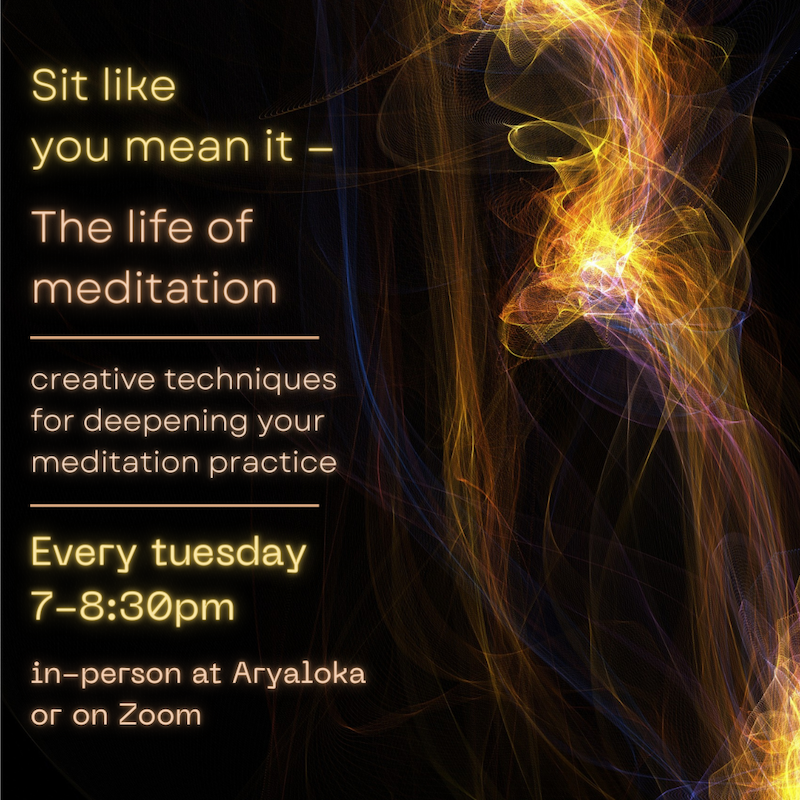 We are now hybrid on Tuesday evenings, meaning you can come in person or join on Zoom! This is a great opportunity to stay connected and find some inspiration. Led meditation, Dharma talks, and engaged discussion. All are welcome, even if you have zero experience! By donation, $5-$15 suggested (you can donate online here).
To join us on Zoom, Click here.
Safety: (For Events Shorter than Three Hours)
How are we coming together safely?
If you know you

have been exposed

to Covid-19 within a five day period of the event's start-time, we ask that you not attend in-person.*  Stay up-to-date with exposure guidelines

here

.

Masks

are optional unless otherwise stated.

Masks are required indoors for anyone testing negative of Covid-19 within days 6-10 of post-covid exposure without infection.

If you have recently recovered from Covid-19, stay up-to-date with CDC guidance

here

as to when you're clear to be back in public.*

If you have cold or flu symptoms, we ask that you do not attend in-person.*

All participants will be asked to sign a waiver of liability in relation to Covid-19.

We have installed new air purifiers with virus-destroying technology!

There are new cleaning and sanitation protocols.
*Zoom options are available for many events. Transfer of fees or refunds are also available for illness or illness-preventative related absence. 
Please email info@aryaloka.org if you have any questions about our safety protocols. Aryaloka may adjust these policies in relation to current, local infection rates, and will keep retreatants posted on such changes.
Our Current Series:
Sit Like You Mean It: The Life of Meditation
Whether you're just getting started in meditation, or have years of experience, the workshop environment of these gatherings will aim to assist participants to go deeper with their meditation practice. The teachings and techniques explored in this series will help meditators to successfully overcome hindrances to concentration, and to cultivate tranquility. Attend every week or just drop in when you can! Suitable for all levels of experience and by donation.
*Please note that due to Aryaloka's retreat schedule, some of our Tuesday gatherings will be on Zoom only. Please consult the calendar below.
Sept 13 Enjoying Stillness: Finding Peace in the Body
Sept 20 Fine Tuning Meditation: Creative Adjustments for Restlessness and Anxiety
Sept 27 (online only) Fine Tuning Meditation: Creative Adjustments for Sloth and Torpor
Oct 4 (online only) regional Padmasambhava day
Oct 11 Kiranada speaks about her three year solitary retreat: 1000 Days of Solitude
Oct 18 An Evening with Aryaloka's President, Dhammarati
Oct 25 (online only) Fine Tuning Meditation: Creative Adjustments for Sense Desire
Nov 1 Special guest (from Mexico) Dayavasini speaks on the Day of the Dead
Nov 8 Fine Tuning Meditation: Creative Adjustments for Aversion
Nov 15 Fine Tuning Meditation: Creative Adjustments for Doubt and Indecision
Nov 22 Finding Confidence in Your Practice: Recognizing the Signs of Integration
Nov 29 (online only) Sit Like You Mean It: Deepening Integration and Finding Tranquility
Dec 6 Fine Tuning Meditation: Balanced Effort and the Subtle Hindrances
Dec 13 Meditation and Lifestyle: What Holds Us Back?
Dec 20  Meditation and Lifestyle: What can we Bring into the World From the Cushion?
Dec 27 (online only) Meditation and Lifestyle: What's it Like to be on Retreat?   
Original image by Dawn Hudson.
Meditation, Dharma, Community — Every Tuesday 7-8:30pm ET in-person or on Zoom. All are welcome and by donation! No need to register. If you'd like to make a donation for the evening click here.
When
March 23rd, 2021 7:00 PM through December 27th, 2022 8:30 PM
Location
Aryaloka




14 Heartwood Circle




Newmarket

,

NH

03857




United States
Event Donation
| | |
| --- | --- |
| By Donation | $5.00 |
| By Donation | $10.00 |
| By Donation | $15.00 |