A weekly gathering to meditate, learn, share and befriend!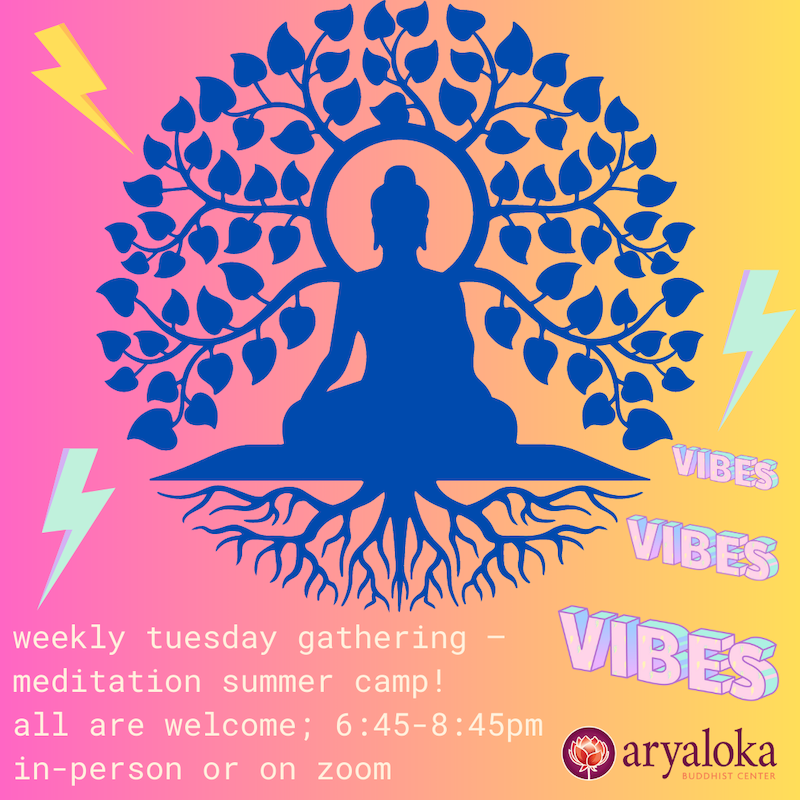 We are now hybrid on Tuesday evenings, meaning you can come in person or join on Zoom! This is a great opportunity to stay connected and find some inspiration. Led meditation, Dharma talks, and engaged discussion. All are welcome, even if you have zero experience! By donation, $5-$15 suggested (you can donate online here).
To join us on Zoom, Click here.

How are we coming together safely?
If you know you

have been exposed

to Covid-19 within a five day period of the event's start-time, we ask that you not attend in-person.*  Stay up-to-date with exposure guidelines

here

.

Masks

are optional unless otherwise stated.

Masks are required indoors for anyone testing negative of Covid-19 within days 6-10 of post-covid exposure without infection.

If you have recently recovered from Covid-19, stay up-to-date with CDC guidance

here

as to when you're clear to be back in public.*

If you have cold or flu symptoms, we ask that you do not attend in-person.*

All participants will be asked to sign a waiver of liability in relation to Covid-19.

We have installed new air purifiers with virus-destroying technology!

There are new cleaning and sanitation protocols.
*Zoom options are available for many events. Transfer of fees or refunds are also available for illness or illness-preventative related absence. 
Please email info@aryaloka.org if you have any questions about our safety protocols. Aryaloka may adjust these policies in relation to current, local infection rates, and will keep retreatants posted on such changes.
 
Our Current Series:
Tuesday Friends' Evenings — Meditation Summer Camp! 
Although we might not be tenting and roasting vegan marshmallows at Aryaloka on Tuesday evenings, we can bring our spirit of exploration and adventure to our summer series on meditation!
Over the course of the summer and into the very beginning of the fall, we'll be using Sangharakshita's 'A Guide to the Buddhist Path' as a framework for our exploration of meditation practice (schedule below). Suitable for all levels of experience, each evening will include led meditation, Dharma talks and discussion groups.
"Buddhism grew out of meditation; it grew out of the Buddha's meditation under the Bodhi tree, 2,500 years ago. It grew therefore out of meditation in the highest sense: not simply meditation in the sense of concentration, nor even the experience of higher states of consciousness, but out of meditation in the sense of contemplation – a direct, total, all-comprehending vision and experience of ultimate Reality. It is out of this that Buddhism grew, and out of this that it has continually refreshed itself down through the ages." — Sangharakshita from 'A Guide to the Buddhist Path'
Please note: if you would like to do some reading in-between sessions, we will be following the section on Meditation from Sangharakshita's 'A Guide to the Buddhist Path,' available in the Aryaloka bookshop or from your favorite bookseller.
July 11 A System of Meditation
July 18 The Five Basic Methods of Meditation 
July 25 Special Guest Singhashri
Aug 1 Alienated Awareness and Integrated Awareness 
Aug 8 The Brahma Viharas: Maitri (Metta) or Loving-kindness
Aug 15 Vanessa Sasson Book Launch: The Gathering; A Story of the First Buddhist Women
Aug 22 The Brahma Viharas: Karuna or Compassion
Aug 29 The Brahma Viharas: Mudita or Sympathetic Joy
Sept 5 The Brahma Viharas: Upeksa (upekkha) or Equanimity
Sept 12 (online only) The Dhyanas
Sept 19 The Symbolism of the Five Element Stupa
Sept 26 (online only) The Stupa Visualization Practice 
Oct 3 Special Guest Dhammarati  
Oct 10 (online only) Special Guest Dhammarati  
Meditation, Dharma, Community — Every Tuesday 6:45-8:45pm ET in-person or on Zoom. All are welcome and by donation! No need to register. If you'd like to make a donation for the evening click here.
When
March 23rd, 2021 6:45 PM to December 26th, 2023 8:45 PM
Location
Aryaloka




14 Heartwood Circle




Newmarket

,

NH

03857




United States
Event Donation
| | |
| --- | --- |
| By Donation | $5.00 |
| By Donation | $10.00 |
| By Donation | $15.00 |