A weekly gathering to meditate, learn, share and befriend!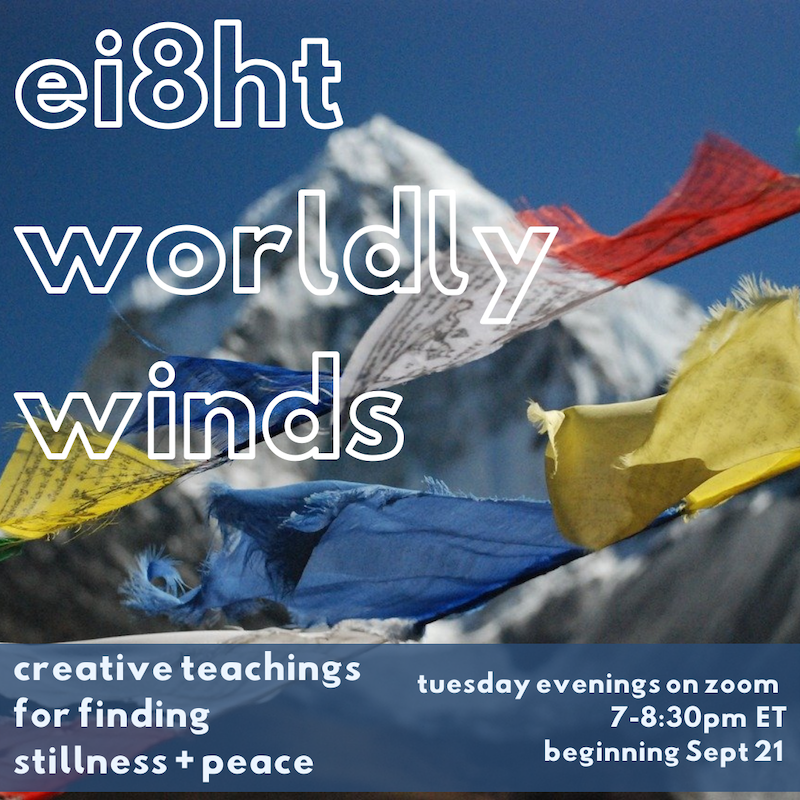 For the time being, our Tuesday Friends' Evenings will be online on Zoom from 7-8:30pm every week. This is a great opportunity to stay connected and find some inspiration. Led meditation, Dharma talks, and engaged discussion. All are welcome, even if you have zero experience! By donation, $5-$15 suggested (see button below to donate).
To join us on Zoom, Click here.
Current Series:
Eight Worldly Winds — Creative Teachings for Finding Stillness & Peace
Every Tuesday on Zoom, 7-8:30pm ET beginning Sept 21
"Gain and loss, disrepute and fame,
blame and praise, pleasure and pain:
these conditions that people meet
are impermanent, transient, and subject to change." — The Buddha
The teaching of the Eight Worldly Winds is a way to understand the difficulty of the human condition and how to work with it. The winds represent forces that buffet us on a personal and social level. If we are not mindful of their power, our lives are in danger of being lived in uncreative reaction to them. 
Not only can we develop the capacity not to be tossed about by these winds, the Buddha made it clear that they can be transcended completely! Quite a thing to say! Yet the Buddha's teaching is full of such boldness, and the confidence of his message and example is hard to ignore.
How can the practices of mindfulness and kindness help us to find refuge from this storm? How can the practices of meditation and spiritual community help to address the inner and outer effects of the Worldly Winds? Join us on Zoom to explore these questions and more! 
Meditation, Dharma, Community — Every Tuesday 7-8:30pm ET on Zoom. All are welcome and by donation!
Photo by Kamila S
Excerpt from the Dutiyalokadhammasutta translated by Bhikkhu Bodhi
When
March 23rd, 2021 7:00 PM through December 21st, 2021 8:30 PM
Location
14 Heartwood Circle




Newmarket

,

NH

03857




United States
Event Donation
| | |
| --- | --- |
| By Donation | $ 5.00 |
| By Donation | $ 10.00 |
| By Donation | $ 15.00 |