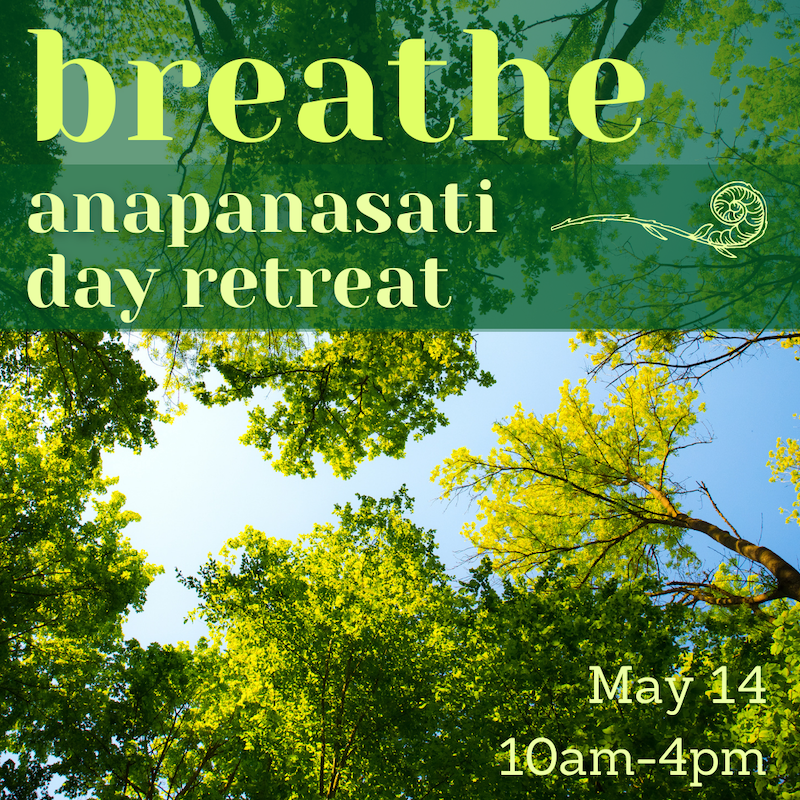 "Here gone to a forest or to the root of a tree or to an empty hut, one sits down; having folded the legs crosswise, keeping the body erect, and having established mindfulness to the fore, mindful one breathes in and mindful one breathes out." 
With these words the Buddha begins the instructions contained in the Anapanasati Sutta which when practiced faithfully can lead the meditator to the culmination of the four frames of mindfulness, to the realization of the seven factors of awakening, and to ultimate clear knowing and release (awakening).
This workshop is designed for people with some knowledge of meditation (for example The Mindfulness of Breathing) who wish to deepen their practice. Anapanasati is often called a "complete" practice – one worthy of regular cultivation. We will look at the 16 meditation instructions and how they work together to create the basis for awakening. The workshop will combine study of the source material with periods of practice. A vegetarian lunch will be provided.
In addition to the daily practice of meditation, participants may wish to familiarize themselves with some of the supporting commentaries on Anapanasati of which there are many. A thorough but approachable introduction is offered by Bhikkhu Analayo in his Mindfulness of Breathing: A Practice Guide and Translations which is available from Aryaloka's bookshop,  Windhorse Publications and other sources. Sangharakshita's Living With Awareness. while focused on the Satipatthana Sutta, never-the-less contains many relevant points. And Breath by Breath by Larry Rosenberg is a well known guide to this subject.
Led by  — Satyada lives the teachings of the historical Buddha with sincerity and conviction. He teaches from his heart, and has a special appreciation of the practices outlined in the Anapanasati Sutta. As Chair of the Aryaloka Board of Directors he leads the Aryaloka community not only as a talented administrator but also as a mindful and compassionate Buddhist, familiar with facing all the spiritual challenges of life. 
Safety:
How are we coming together safely?
We are requiring that all in-person participants be fully vaccinated vs Covid-19, including a booster, and will ask for a photo or scan of vaccination cards.

Please plan on taking a covid-19 rapid test on the day of the event. A negative rapid test is required for entry.

Masks are optional unless otherwise stated.

If you have cold or flu symptoms, we ask that you do not attend.

We have installed new air purifiers with virus-destroying technology!

We will have the same few people working in the kitchen.

We will practice social distancing in the shrine room.

There will be some new cleaning and sanitation protocols.

There will be one-person per bedroom unless already sharing a household.

The retreat population will be limited.
*Please let us know if you have questions or concerns about how we're coming together.
A Culture of Generosity and Support
In the tradition of passing on the Dharma freely, our Dharma retreat and workshop facilitators offer their work without charge and are not paid. We recognize the value in what they do and want to thank them for their time, energy and wisdom. A financial gift can help support our facilitators to afford them the opportunity to lead. Please consider making a donation towards their support. 
There is often a cash collection and a thank you card that is passed on the retreat, though one can also make a donation directly to facilitators with a check, and some use money transfer services such as PayPal or Venmo.
Thank you for considering this.
At Aryaloka, we strive to make our programs available to everyone regardless of their financial circumstances. Our fee structure allows you to pay according to your means. 
The Event Rate is our actual fee for the event. It is for people paying their rent or mortgage, and who can afford occasional or regular leisure expenses such as dining out. Any payment above the advertised fee is a tax-deductible donation. 
The Mid-Level Reduced Rate is for those who are paying their mortgage or rent, though experience a consistent tightness in budget that makes extras like leisure activities or unexpected expenses difficult or impossible. 
The Base-Level Reduced Rate is for those without an income or with an income low enough that making ends meet is a challenge. 
Those whose circumstances are not included above can email the office to make other arrangements. info@aryaloka.org
When
May 14th, 2022 10:00 AM through 4:00 PM
Location
Aryaloka




14 Heartwood Circle




Newmarket

,

NH

03857




United States
Event Fee(s)
| | |
| --- | --- |
| Event Fee | $95.00 |
| Mid-level Reduced | $80.00 |
| Base-level Reduced | $60.00 |