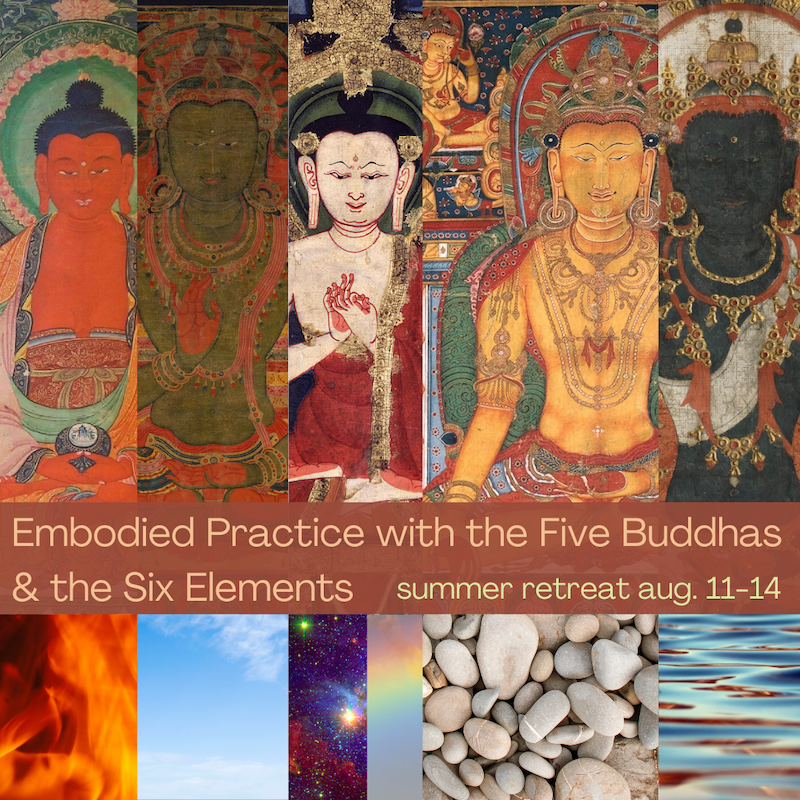 Many people are familiar with the ubiquitous lists of Buddhism: the Four Noble Truths, the Eightfold Path, the Five Spiritual Faculties, etc. These lists often organize conceptual teachings. Yet Buddhist teaching also uses the language of symbols as a way to communicate spiritual truths. The Mandala of the Five Buddhas and the Six Elements are two such teachings that act as inspiring gateways to awareness and transformation. On this retreat we welcome you to the universe of symbols! 
On this retreat we'll familiarize ourselves with the Five Buddha Mandala and the Six Elements and explore ways to bring them to life in daily practice. You may have come across Buddhas of different colors and wondered what they are about. The Five Buddha Mandala, or the Five Jinas, can be seen as a map of many layers: enlightened qualities that we may aspire to; the human psyche and its discontents; the dimension of time and timelessness. By connecting with these Buddhas we open parts of ourselves, almost without our knowing — creativity, possibility, new and vast perspectives. 
Another series of symbols for practice is the Six Elements – earth, water, fire, air, space, consciousness. They describe existence dynamically as form and energy. Engaging with the Elements together with the Five Buddhas can help us know ourselves and what we need to work on; can help us let go of unhelpful patterns; can get us out of our heads and into a more embodied practice. 
We'll engage in full-bodied approaches to these teachings that can meet all kinds of learning styles, and may even feel like play! Activities will include contemplations, meditation, collaborations, playing with colors and images, and movement. You will be welcome to practice within your comfort zone or to bust right out of it, as you choose, or as the Buddhas and Elements move you.

Led by Amala, who has been wondering about symbols since her college years. In the lifelong search for ways to see beyond appearances, she has found these Buddhist frameworks very helpful and enjoyable to work with.
Hybrid Option: Please email info@aryaloka.org if you would like to attend this retreat from home on Zoom.
Safety:
How are we coming together safely?
We are requiring that all in-person participants be fully vaccinated vs Covid-19, including a booster, and will ask for a photo or scan of vaccination cards before the event.

Please take a covid-19 rapid test on the day of the event (Aryaloka does not provide this test). A negative rapid test is required for entry; please take a photo of your test results and present at the door.

Masks are optional unless otherwise stated.

If you have cold or flu symptoms, we ask that you do not attend.

We have installed new air purifiers with virus-destroying technology!

We will have the same few people working in the kitchen.

We will practice social distancing in the shrine room.

There will be some new cleaning and sanitation protocols.

There will be one-person per bedroom unless already sharing a household.

The retreat population will be limited.
*Please let us know if you have questions or concerns about how we're coming together.
A Culture of Generosity and Support
In the tradition of passing on the Dharma freely, our Dharma retreat and workshop facilitators offer their work without charge and are not paid. We recognize the value in what they do and want to thank them for their time, energy and wisdom. A financial gift can help support our facilitators to afford them the opportunity to lead. Please consider making a donation towards their support. 
There is often a cash collection and a thank you card that is passed on the retreat, though one can also make a donation directly to facilitators with a check, and some use money transfer services such as PayPal or Venmo.
Thank you for considering this.


At Aryaloka, we strive to make our programs available to everyone regardless of their financial circumstances. Our fee structure allows you to pay according to your means. 
The Event Rate is our actual fee for the event. It is for people paying their rent or mortgage, and who can afford occasional or regular leisure expenses such as dining out. Any payment above the advertised fee is a tax-deductible donation. 
The Mid-Level Reduced Rate is for those who are paying their mortgage or rent, though experience a consistent tightness in budget that makes extras like leisure activities or unexpected expenses difficult or impossible. 
The Base-Level Reduced Rate is for those without an income or with an income low enough that making ends meet is a challenge. 
Those whose circumstances are not included above can email the office to make other arrangements. info@aryaloka.org
When
August 11th, 2022 6:00 PM to August 14th, 2022 2:00 PM
Location
Aryaloka




14 Heartwood Circle




Newmarket

,

NH

03857




United States
Event Fee(s)
| | |
| --- | --- |
| Event Fee | $360.00 |
| Mid-level Reduced | $290.00 |
| Base-level Reduced | $230.00 |